Our Founder's Story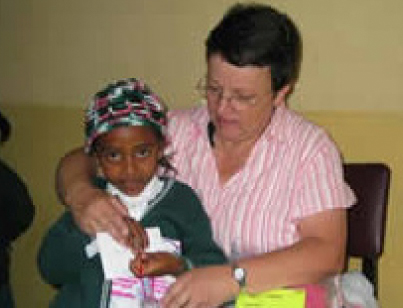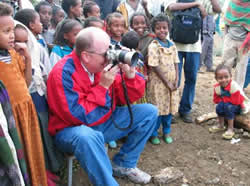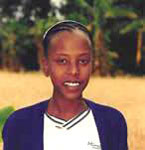 When Kidist Bunde, and pajama clad friend, Nuretu, met Norm Perdue in Ethiopia, all that the spirited, English-speaking girls wanted was his timepiece.
"Hey mister, can I have your watch?" Kidist quipped.
Perdue kept his watch, but gave Kidist – and hundreds of other impoverish Ethiopian girls – much more: the opportunity to be educated in private schools.
That chance meeting with Kidist in 2001 led to the formation of Children of Ethiopian Education Fund (COEEF), which Kidist credits for her success.
"God has helped me so much through Mr. Norm and COEEF," said Kidist, who currently works as a nurse in a private clinic in Addis Ababa, the capital of the east African country. "I learned many, many things, including spirituality."
Kidist's remarkable journey started when she met "Mr. Norm." Perdue and his wife, Ruthann, were on a humanitarian trip in Kuyera, Ethiopia – staying at the Ethiopian Adventists College where Kidist, 12, was a student. Because Kidist's grandmother performed manual labor at the school, Kidist's tuition was had been reduced to $100 a year.
But, because her health was poor, the grandmother questioned how long she could continue working to pay for Kidist's schooling.
Perdue immediately donated $200 to pay for Kidist's tuition, books, supplies and uniform for the next two years. "The experience (in Ethiopia) forever changed our lives," said Norm and Ruthann. They had discovered that less than half of all Ethiopians could read, and barely half of Ethiopian children were enrolled in school. Plus, classrooms in free, government schools were over-crowded, and there was a lack of basic resources like desks and chalkboards. Some students wrote arithmetic problems with their fingers in the dirt by their feet. However, private schools were—and continue to be—too expensive for most Ethiopians. "When we returned to Salt Lake City and told our story, many of our friends and associates also wanted to help these children. This is how our program began," said Perdue. "On our next trip to Ethiopia, we had enough money to sponsor 30 girls in private schools. It grew from there." Shortly thereafter, a board of directors was assembled and Children of Ethiopia Education Fund was incorporated as a 501(c) (3) non-profit organization. The Perdues continued to sponsor Kidist through high school. She then studied nursing at Kea-Med Medical University College. "If she would have dropped out, she would have been stuck in that little village hauling water, cooking," Ruthie Perdue said. "Or, she would have had to go to government school. A one room government school, which had zero supplies – where teachers smack the kids with a stick to get them to behave. "Instead, she is a nurse, making a difference in other people lives. She is educating her own
people, which is huge. She has an income and can provide for herself and her family." Kidist's message is one of gratitude to the Perdues and COEEF, plus a plea to other Ethiopian girls: "You have to learn," she said. "And, be strong!"